Love Is
I was reflecting this morning that this is the first Valentine's Day for three years that I haven't been involved in some kind of poetry competition or promotion – 2010 and 2011, I was working with Hallmark Cards as a judge on a 'Twittermantic' project offering a prize for the best short romantic verse, with the winning words being turned into a card. Great fun and we attracted lots of entries both times.
Last year, I was working with QVC, the shopping channel, as resident poet on a Love Letters campaign to help the British public write messages of love to their loved ones – I turned out hundreds of poems in two days, and it was great fun. Each entrant received a beautiful, specially designed card with a personalised verse inside, and the requests came from sons and daughters, parents and friends as well as romantic interests, the long-married and newly established and those hopeful for relationships to develop. There were some deeply moving stories of loss, illness, misfortune – through which Love had triumphed and endured, and it was such a delightfully endearing project.
Although not publicly involved this year, I am,  as well as writing a book about Love in Organisations, deeply engaged in the process of bringing together a new volume of poems called 'Courage to Love', and this seems like the ideal time to give you a sneak preview.
This one is called 'Come to Love' and seems quite fitting for Valentine's Day, even if it's a little alternative. It's really a statement that hearts and flowers and romance are not the essence of lasting love. We need more of the kind of love that endures and grows, standing up to all kinds of challenges and upsets, just like every aspect of human life. A Love that is present not only between couples and in families, but throughout our lives, including our work, our politics, and the way we engage with nature and the environment – in fact, throughout the planet, even the cosmos.
I like to think of us rising and standing in love, strong and courageous and loyal, collectively, rather than falling in love and being infatuated, on a hormonal high which inevitably recedes and leaves us wondering what we saw in that person in the first place. A Love that simply Is…not always easy, but one we know will endure the ups, downs and broadsides of human life.
I dedicate this poem to Love  - as a way of being and becoming; inclusive, extensive and pervasive, bringing the joy and spirit of human flourishing to us all.
Happy Valentine's Day – Loving Every Day, Every Loving Day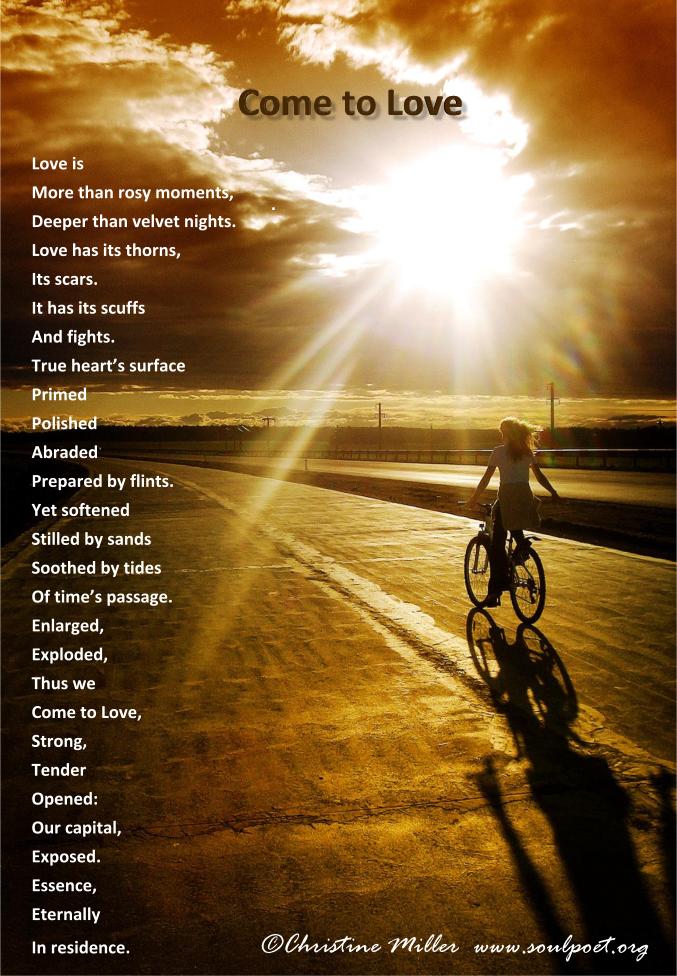 Mastery in Time – Christine Miller
In our modern world, 'time' seems to be at a premium; the majority claim they don't have enough, and overload is a common complaint. Bombarded with information from multiple sources, many feel that time runs away with and from them, and they can never catch up.
So when I was recently invited by my friend Tom Evans, aka the Bookwright, to attend one of his time-bending workshops, and experiment with expanding, extending and transcending time, my curiosity was piqued.
'I don't have time' could have been my response, 'I'm far too busy'.
But I know that I can make time for the things I choose to do.
And I also have a policy of not describing myself as busy, because again, I will always find time for the people and activities I love. It might require some dancing around schedules, but it's possible.
It's a paradox that time can apparently pass at different rates for two people in the same space performing the same activity.  That brings back memories of schooldays! The one who is fully engaged and enjoying what they are involved in finds time whizzing by rapidly; but if you're bored and uninterested, time drags slowly by and feels interminable. Same minutes and hours, different outlook, different outcome!
I pondered how we usually only procrastinate about what we are reluctant to do….then thought,
is that true? Do we?
What about those juicy, fulfilling projects that could transform many lives including our own? Do we always press on with those, and finish them off promptly, or does their importance and consequence bring up fears and reluctance because they might just lead to great change and transformation?
Sometimes change, welcome or unwelcome, makes us uncomfortable, so we shelve activities and make excuses in order to stay the same. It's a bit crazy, really, because we and our world are changing constantly, ceaselessly, evolving with every breath, every action, every thought and feeling, so we might as well just get on with it. Yet still, sometimes, we resist.
We all have a different way of relating to time, and this varies at different times of our lives, the year, the day and the circumstance – obvious, I know, but sometimes we forget what is under our noses or ticking away on our wrists!
I found this poem which captures thoughts about time, expressed beautifully and engraved on a Sundial in a garden:
Time

Is

Too slow for those who wait

Too swift for those who fear

Too long for those who grieve

Too short for those who rejoice

But for those who Love

Time

Is

Eternity

by Henry Van Dyke

More about the poem Yaddo Gardens
Tom's Time Bending workshop offered us the opportunity to alter our perception of time, to play with the past, present and future, and to understand how we can create shifts in time and space to ensure things happen 'just in time'. The old saying 'time flies when you're enjoying yourself' certainly applied, as the day flew by, in very pleasant surroundings with a fascinating group of people also exploring a type of time travel – without an obvious tardis, more of a 'build your own' time machine approach! And it was time well spent, for sure.
If you want to bend time, and find more time for yourself, Tom has some workshops coming up in the near future – details here.
You might also be interested in reading this article on Transformation 
by Christine Miller